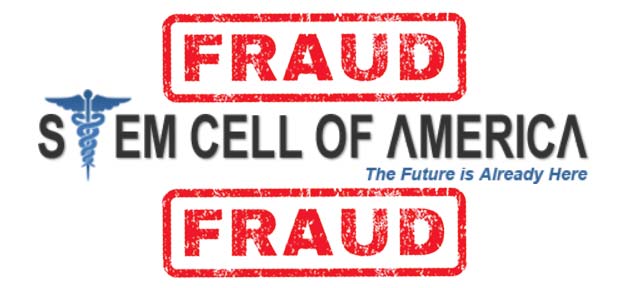 At the 56-minute mark of my 2019 lecture, I discuss Stem Cell of America. I spent 2 years following new Stem Cell of America patients without seeing any new patients show improvement, while previous patients from years prior had improved. I began to realize that they ran out of fetal stem cells without any way of getting more. The "chief scientist" of Stem Cell of America has been unsuccessfully attempting to replicate what he has left: by hand using flasks in his home in Malibu.
Even if the replication process (done without the proper equipment, as is in this case) was successful, true fetal stem cell therapy is done by suspending fresh cells, not manipulating them: manipulating them risks them maturing beyond their role and causing a possible rejection issue. Also, true fetal stem cell therapy is given by harvesting all organ systems. All Stem Cell of America was using until they ran out of their cells was "brain" and "liver" cells. Making it impossible to give the patient the proper array of cells needed, coupled with the highly burdensome task of replicating all cells from all organ systems.
If you contact Stem Cell Of America, you will likely get an email from this person, with no last name. He isn't in the United States, he lives in Canada:
The email will then proceed to lie to you, stating there is a documentary about Stem Cell of America, which isn't true. I know this because this is a re-edited version of my documentary, The God Cells, that I have repeatedly made copyright complaints via YouTube, Vimeo, Google Drive, and more, until they finally posted a private link found in the email below, and here, making my ability to force them to take this link down nearly impossible. Stem Cell of America has outright refused to stop using my re-edited property to promote themselves: https://avro.tirony.me/video-embed-private/
Would you go to a "clinic" that is intentionally willing to break copyright laws to promote themselves, knowing full well they are breaking these laws? It's bad enough all the photos on their website are stolen from various other sources, but the "movie" they are giving to prospective patients is also stolen property.
Just imagine what else they must be doing. I firmly believe they aren't giving people fetal stem cells at all, but a high dose of dimethyl sulfoxide (DMSO) instead. When injected with DMSO, it gives an instant feeling of euphoria, you can feel it expelling through your lungs like you've been given a new set of lungs. It's not stem cells doing this, it's the DMSO. I know this because I had this "therapy" from Stem Cell of America myself in 2015, after they ran out of cells. I felt 2 days of this euphoria, and nothing else.
—————–
If you email Stem Cell of America, the email response from them will look like this:
Stem Cell of America Documentary
Click on the highlighted link below to view a very informative documentary featuring Stem Cell of America and our patients as they receive our fetal stem cell procedure. It includes interviews with our patients, their friends and family, and their physicians, and will give you a very clear picture of the treatment process and the clinic where treatments are administered. It will also answer most of your questions about the cells we use and how they are different from other treatments. It is a "must watch" film for anyone considering this treatment.
Here is the book:
Book – Digital Version:
(This book is filled with half truths and exaggerations)
(This interview link is dead last I checked, likely because the host figured out he's a fraud also)
(The Facebook reviews could be posted by anyone. It's also easy for them to delete the slew of negative reviews. Don't trust reviews on Facebook for anything).
—————–
While it isn't my job to protect the public from potential frauds, it is my job to report on what I see within my investigations. The reality is, from the 1990s until around 2014, this company had good results because they still had a stock of brain and liver fetal cells they acquired from Ukraine in the 1990s.
Everything has been downhill from there.
If you speak to them ask these questions:
Can I see your laboratory?
When was your last harvest of fetal stem cells?
If you are replicating them, where is the equipment to do so? Can I see a picture?
Why are all of the photographs on your website from stock photos and other people's book covers? Why is no one on your website an employee of your company?
Are the nurses giving the injections actually registered nurses?
Is there even a doctor on staff? If so, can I see his or her credentials?
Just one sentence: stay away from this place. They will not be around much longer anyway. All employees will be in prison soon enough.
I will be adding much more detail to this post in the near future, like how they have convinced people they found a cure for AIDS by finding the CCR5 mutation that makes people immune to the HIV virus. They didn't find this mutation, they just made it up.
Buyer beware. Do your own research.
Note: When conversing with Stem Cell Of America, they will never answer a question in an email, only verbally—to avoid being recorded as lying. If you choose to ignore all of my advice and try to contact them anyway… when you speak to them on the telephone: RECORD YOUR CONVERSATION.